It depicted life in southeastern Turkey during the state of emergency. That is why the Kurdish artist and journalist Zehra Doğan had to go to prison. Now she is free – and continues to fight.
It depicted life in southeastern Turkey during the state of emergency. That is why the Kurdish artist and journalist Zehra Doğan had to go to prison. Now she is free – and continues to fight.
Zehra Dogan caricature (picture-alliance/Photoshot)
"They asked me: 'Why did you paint this picture of the destroyed houses with the Turkish flag? Then they threw me in prison. But it was them who took the picture. I just illustrated it."
The Kurdish artist and journalist Zehra Doğan shares this in the social media when she learns that she is to be imprisoned because of her pictures, articles and posts. When she is in prison, her friends make publicity.
Twice Zehra Doğan has been in prison for alleged terrorist connections. Since February 24th she has been free again. She is currently experiencing a chaos of emotions, she says. She feels bad because she had to leave the other women in her cell.
"I woke up in the middle of the night and had to remember that I was no longer in prison," she told DW about her first night out. "In prison I had told fairy tales to the children, I had drawn my friends who had gone on hunger strike. I was happy to find something to do. Once you get used to something, you think, "This is my life from now on. I got used to prison and now I'm thinking about what I can do in the future."
Journalism changed her life
Zehra Doğan was born in 1989 in Diyarbakır in the southeast of Turkey. She studied art at the Dicle University there, she wanted to become a teacher. At that time she had no idea that she would soon find a new passion.
It was journalism that changed her life: she wanted to report about the everyday life of the Kurds in south-eastern Turkey. In 2012, she was one of the co-founders of Jin Haber (JINHA), the first news agency in Turkey run solely by women. For a reportage about Yezidi women in the Sinjar she received the Metin Göktepe Journalism Prize in 2015. Until the attempted coup in 2016 she worked there with great enthusiasm as a reporter and editor.
She never neglected painting. But JINHA was one of the media companies that were banned by special decree during the state of emergency.
The government had already terminated the peace process with the Kurds in 2015. There were again riots and military interventions in the southeast of the country, and this also affected the work of journalists in these areas, where Kurds are in the majority. The clashes between the Turkish army and the Kurdish PKK resulted in curfews. At that time, Zehra Doğan was working in the Nusaybin district in the provincial capital of Mardin and painted the houses with the Turkish flag.
Zehra in prison – her art in Europe
Her publications on social networks, her articles and pictures brought Zehra Doğan an indictment for membership of a terrorist organization. On 23 July 2016 she was arrested and imprisoned in Mardin. After her first hearing, the court released her in December 2016.
Shortly afterwards, she exhibited her paintings, which she had painted while in custody. The exhibition was called "141" – the number of days she spent behind bars. But this was not to be the end of her imprisonment. And there were other exhibitions of her paintings.
The accusation of being a member of a terrorist group was dropped, but security officials took her into custody again on 2 June 2017. This time she was accused of spreading terrorist propaganda. She was imprisoned in Diyarbakır – and her exhibition "141" was touring Europe in the meantime.
Banksy draws for Zehra Doğan

The public outside Turkey also reacted to the detention of Zehra Doğan. The most prominent protest came from the English street art artist Banksy. He drew a mural in New York in 2018 that shows the artist behind bars, including the lettering "Freedom for Zehra Doğan". Doğan was so moved by this gesture of recognition from Banksy that she wrote him a letter of thanks and had him smuggled out of prison.
Another tribute also came from the USA: in October 20018 , the International Women's Media Foundation awarded Zehra Doğan the Courage in Journalism Award for her reports from Cizre and Nusaybin.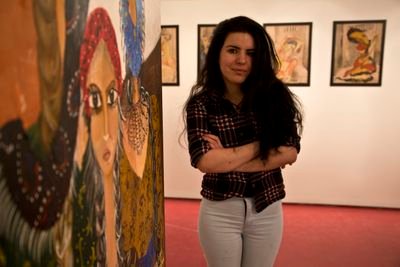 Menstrual blood – for lack of colour
While its supporters outside the prison walls stood up for the political prisoner, Zehra Doğan in jail was faced with completely different challenges: The prison management didn't give her any colours.
She painted with menstrual blood, Zehra Doğan reported to Deutsche Welle after her release. That is why she knew all about the menstruation of her cell neighbours, she says and laughs loudly. This Italian tweet illustrates how she painted with drinks, food leftovers and menstrual blood:
"If one said, 'I still haven't gotten my period,' I said, 'You still have a few days. I gave them doses, and they put their blood in them. One day one of the supervisors remarked: 'The staff find it disgusting that you use menstrual blood to paint. You should stop. I replied, "Then give me paints. A few days after that conversation I was transferred to the prison in Tarsus."
During her time in prison she never imagined she would ever be able to enjoy freedom, Zehra tells Doğan. Now she feels powerful and wants to get started. "You know journalism is addictive", she says. "Fortunately it exists."
https://www.dw.com/de/zehra-do%C4%9Fan-rebellin-mit-feder-und-pinsel/a-47689677